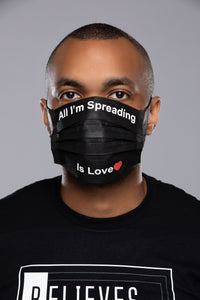 This New Signature "All I'm Spreading is Love" Mask Product is designed for travelers and the everyday germ conscious individual.
PLEASE READ:
!
This Product Sells out frequently due to demand so ordering even if on back order is suggested.
Disclaimer : Our masks may reduce the chance of infection or contaminants, but the ability to protect depends on many factors and we do not guarantee protection from any virus including the common cold.  By purchasing you agree to these terms and indemnify and hold  harmless the company, its agents or subsidiaries.
It is not intended to be used as a respirator or in such clinical setting where the risk level of infection through fluids or inhalation exposure is high. Each mask is intended for use by one person only and must not be shared.
We do not recommend reuse of our mask!